AL-2 Belt Filter for process water
At AL-2, we provide belt filters in several standard models and also produce customized solutions for our customers. We are a leading provider of belt filter solutions for filtering water and process water.
If you would like to learn more about AL-2's solutions, please feel free to contact us for a no-obligation chat at +45 75 39 65 00 or via email. Read more about our solutions for mechanical cleaning of your wastewater below.
Market-leading belt filter
The AL-2 Belt Filter is a leading belt filter in the market. Our belt filter is used for filtering process water or wastewater, where we efficiently remove particles as the water passes through the filter belt. The self-cleaning belt filter is operated with automatic start-stop, where the endless filter belt gently removes particles from a continuous flow.
At AL-2 Teknik, we started producing belt filters more than 25 years ago, and with our many years of experience, we ensure good efficiency and reliability. Reliability is an important factor when it comes to treating wastewater. Therefore, at AL-2 Teknik A/S, we also offer servicing and maintenance of the machines.
We create the belt filter solutions that fit your industry and set them up according to your needs.
Belt filter with wide applicability
With a belt filter from AL-2, many companies achieve optimal removal of unwanted substances, so they can meet the requirements for filtering water. Our belt filter can filter everything from wastewater in slaughterhouses, food production, recirculated water in zoos, to aquaculture, fish farming, and inlet screens at municipal treatment plants for efficient removal of inorganic materials such as cotton swabs and fiber cloths, which are unwanted in the treatment plants.
At municipal treatment plants, we can also remove organic material in a very energy-efficient way, which is ideal for biogas production, while saving energy and retaining microplastics. Depending on the application, the filtering grade is defined, where we can provide filter cloths with mesh openings ranging from 30 μm to 5000 μm (5 mm).
Advantages of the belt Filter
Our AL-2 band filter often has an internal drum motor for compact installation, which is operated with an endless filter belt for low operating costs. The band filter has an intermittent operation to build up the filter mat for efficient and gentle removal of particles and impurities. The construction and operation ensure combined filtering and sludge dewatering. Filtration of the wastewater is carried out with an automatic cleaning of the filter cloth.
The belt filter has high reliability, low noise level, and is cost-effective with low energy consumption. It is controlled automatically with level sensors and flow meters. We also offer PLC control solution for your belt filter solution.
Belt filter in corrosion-resistant materials
The AL-2 belt filter is made of corrosion-resistant materials, most commonly stainless steel AISI 304 or acid-resistant AISI 316 supplemented with plastic parts, providing a product that is incredibly resistant in most environments.
When filtering process water, a belt filter is required that can withstand the substances that need to be sorted out. Therefore, many companies choose a solution from AL-2. The belt filters are supplied with filter tanks tailored to the application or are mounted in a concrete channel constructed according to AL-2 instructions.
Our standard filter tanks are available in different configurations and are made of PE or PP plastic. Customized solutions are also provided – for example, special inlets and outlets or production in stainless steel.
Models
The AL-2 belt filter is available in several standard models, chosen dependent on use, flow, space, etc. It is possible to install more belt filters in a parallel setup for high flows. All models are based on the same AL-2 design, which makes them equally efficient, reliable, and useful.
Automatic cleaning of the belt filter provides a continuous and effective filtration. Different solutions for scrapers and backwash make it possible to choose the optimal belt cleaning.
AL-2 Teknik carries a large stock of belt for all standard models within all mesh ranges. It gives great flexibility for our customers, as this allows us to dispatch parts very quickly when required.
AL-2 Båndfilter
1.3C
2.1C
2.1D
3.6D
3.6M
Chassis length
[mm]
1300
2100
2100
3600
3600
Belt width
[mm]
300
300
500
500
1000
Build-in width
[mm]
410
410
610
610
1110
Available belt filter mesh
[µm]
40 – 5000
40 – 5000
40 – 5000
40 – 5000
60 – 5000
Slam
1 of 6
Udløb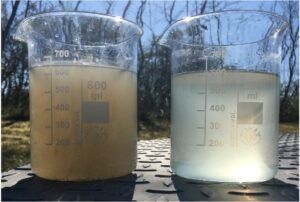 2 of 6
Spildevand / Flokkulering
3 of 6
4 of 6
5 of 6
6 of 6
Effluent treatment system for discharge to river
Read more »
Pre-treatment of dairy wastewater before discharge to sewer.
Read more »