Continuous chemical-mechanical treatment of process water and wastewater.
About AL-2 Separation System
Efficient automated wastewater treatment
Often, wastewater cannot be treated sufficiently with mechanical filtration to comply with discharge requirements or obtain a quality for reuse. This is e.g. due to heavy contamination or harmful dissolved substances.
AL-2 Separation System combines chemical pre-treatment with gentle separation on belt filter to obtain a better removal of polluting substances such as organic matter, fat, oil, phosphorus, and heavy metals. A continuous flow is treated starting with coagulation and precipitating the unwanted substances. The micro particles are formed to flocs in a flocculation process and separated from the water phase on AL-2 Belt Filter. The effluent water can be discharged to a sewer or be incorporated in a recycling process.
Our separation system is used in industries for:
Treatment of wastewater from food production, dairies, and meat processing plants
Removal of heavy metals or oil from industrial wastewater
Sludge treatment in aquaculture
Our separation system is ideal for decentralized treatment of wastewater in the industries. It is a great advantage treatment the wastewater at the sources before dilution in the municipal sewer. Removal of high load and polluting substances like microplastics and heavy metals at the industrial sources decrease the impact on the environment and the municipal wastewater treatment plants.
Compact, effective, and automated solution
AL-2 Separation System has many advantages:
Continuous flow and operation
Intermittent operation of belt filter securing enhanced removal
Gentle removal of particles and impurities
Combined filtration and dewatering
Automatic cleaning of the filter belt
High operational reliability
Low noise level
Automation and monitoring with PLC system
Our process gives high removal rates and reduction of COD (Chemical Oxygen Demand), BOD (Biological Oxygen Demand), TSS (suspended solids), fat, oil, heavy metals etc.
Wastewater characteristics, loads and flow volume are always different from project to project. Our wide-reaching experience within numerous industries makes us experts in defining the right solution for most wastewater treatments. In case of new territory, the AL-2 pilot plants are an extraordinary tool for both parties to prove treatment capabilities.
Capacity designed to needs
AL-2 Separation System is manufactured in standard configurations with a flow capacity from 500 L/hour to over 20 m3/hour. For larger volumes, the solution is constructed of several modules to achieve sufficient capacity. Modular setups offer many advantages, e.g. increased operational reliability and serviceability.
Our solutions are often constructed of standard modules which can be adapted to customer-specific requirements and needs. This makes us very flexible in delivering the most optimal treatment system for the actual needs and conditions. The solutions are constructed in corrosion-resistant materials, primarily PE or PP plastic and stainless steel (AISI304 or AISI316).
All our solutions are completed and thoroughly tested at our factory to ensure constant high quality.
This means that installation work at the customer is minimized, which also makes our solutions attractive abroad, where stricter wastewater requirements are introduced.
Customer-specific solutions
AL-2 Separation System can be adapted and produced according to customer-specific needs, e.g. adapting to existing buildings. When the need for a separation system arises, there is not necessarily room for a separation system. That is why we offer to build a complete separation system in a container, e.g. 20 feet or 40 feet, dependent on needs. It also gives the opportunity for easier moving or transporting of the system if necessary.
Chemical-mechanical treatment
Wastewater is pumped into the mixing tanks of the separation system, where the chemical process is carried out. Here, chemistry is added for precipitation of particles and pH regulation. Polymer is then mixed in, so that the particles form flocks, which are easier to filter off. The flocculated wastewater enters the belt filter to obtain separation of sludge/particles and effluent water.
Slam
1 of 6
Udløb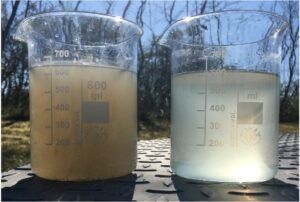 2 of 6
Spildevand / Flokkulering
3 of 6
4 of 6
5 of 6
6 of 6
Effluent treatment system for discharge to river
Read more »
Pre-treatment of dairy wastewater before discharge to sewer.
Read more »