Chemical-mechanical treatment with AL-2 Separation System
To comply with the requirements for wastewater discharge, it is important to perform proper treatment in your company. To make it as easy as possible, AL-2 has developed automated solutions that function as separation units and perform chemical-mechanical treatment of process water and wastewater.
Please feel free to contact us at +45 75 39 65 00 or write to our email if you have any questions. Our skilled employees are ready to assist you.
Learn more about how our solution can help you with chemical-mechanical treatment of wastewater below.
About AL-2 Separation System
Chemical treatment of wastewater
Wastewater often cannot be sufficiently treated through mechanical filtration. Therefore, our solution uses chemical pretreatment to comply with discharge requirements or achieve a quality that allows the water to be recycled.
We recommend treating the wastewater with our separation unit, where we can remove unwanted substances such as organic matter, grease, oil, phosphorus, and heavy metals. Wastewater treatment is carried out by treating a continuous flow, where we start by coagulating and precipitating the unwanted substances, after which they are collected into larger particles in a flocculation process that can be gently separated from the water phase on the belt filter.
The treated water can be discharged to the sewer without any additional charge or used in a recycling process elsewhere in the company.
AL-2's separation system are used in industries for wastewater treatment from food production, dairies, and slaughterhouses, where a high organic load and fat content require the companies to treat their wastewater. Through chemical precipitation, water is cleaned of heavy metals and oil in industrial plants. AL-2's separation units are also used for sludge treatment in fish farming.
Our AL-2 separation system ensures decentralized treatment of wastewater at industries for unwanted substances. It is a significant advantage to treat wastewater at industries before it is diluted in the municipal sewer system. Removal of high loads, as well as environmental pollutants such as microplastics and heavy metals at industrial sources, alleviates the burden on the environment and municipal treatment plants.
What is mechanical treatment and its benefits?
AL-2's separation system operates as a continuous flow system for wastewater. By using our belt filter, your company ensures a mechanical treatment of water after chemical precipitation, where optimal operation of the belt filter ensures good removal of particles through the built-up filter mat.
When wastewater is treated, it also undergoes a chemical process. The wastewater is pumped into the mixing tank of the separation plant, where chemical treatment of the water occurs. Chemicals are added for precipitation of particles and pH regulation. Then polymer is added to form flocks of particles that can be more easily filtered out. The flocks are led out to the belt filter, where they are filtered out on the filter belt to achieve separation of sludge/particles and purified water.
This ensures a gentle and effective removal of particles and impurities. By using mechanical treatment of wastewater with AL-2's solutions, you always achieve high operational reliability with low noise levels.
When you perform a combined chemical and mechanical treatment of wastewater with AL-2's separation plant, the process runs completely automatically. Once the plant is installed, it requires minimal labor and is controlled and monitored through our robust PLC control system, which have been developed through many years of experience.
Achieve high quality wastewater treatment
With a separation system from AL-2, you ensure a high degree of purification and reduction of COD (Chemical Oxygen Demand), BOD (Biological Oxygen Demand), SS (Suspended Solids), fat, oil, heavy metals, phosphorus, and similar substances through chemical wastewater treatment.
There are no two types of wastewater that are the same. Therefore, we often use our pilot plants, where we run a representative test, which is later scaled to a full-scale solution, so we can best clean your wastewater. This way, we ensure that both parties get the best possible solution for treating your water.
Capacity designed to needs
AL-2 separation system are manufactured in standard configurations with flow capacities down to 500 liters per hour. When a chemical/mechanical treatment of larger amounts of water is required, the solution is built up of multiple modules to achieve sufficient capacity. Module construction provides many advantages such as increased operational reliability and serviceability.
Our solutions for wastewater treatment are often built using standard modules and can be tailored to your specific requirements and needs with our guidance. We are always interested in delivering the most optimal treatment plant for the given needs and conditions. Mechanical treatment solutions are constructed from corrosion-resistant materials, primarily PE or PP plastic and stainless steel (AISI304 or AISI316).
To ensure constant high quality, all units are prefabricated and tested at our factory. This also means minimal installation work is required at the customer site, making our solutions attractive for use abroad where stricter wastewater regulations are also beginning to take effect.
Customer-specific solutions
AL-2 separation systems used for mechanical treatment are tailored and manufactured according to customer-specific needs, such as for existing buildings. There may not be space for a separation system when the need for chemical wastewater treatment arises. Therefore, we offer to build a complete separation system in a container, such as a 20-foot or 40-foot shipping container, depending on the requirements. This provides the possibility of moving or transporting the system if necessary.
Chemical-mechanical treatment
Wastewater is pumped into the mixing tank of the separation system, where the chemical separation takes place. Here, chemicals are added for precipitation of particles as well as pH regulation. Then, polymer is mixed in to form flocs of particles, which can be more easily filtered out. The flocs are then carried onto the belt filter, where they are filtered out to achieve separation of sludge/particles and treated water.
Slam
1 of 6
Udløb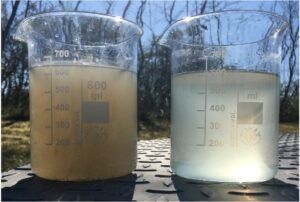 2 of 6
Spildevand / Flokkulering
3 of 6
4 of 6
5 of 6
6 of 6
Effluent treatment system for discharge to river
Read more »
Pre-treatment of dairy wastewater before discharge to sewer.
Read more »